Alzheimer's Caregiver Love Stories That Will Warm Your Heart
It's February and love is in the air. Just because you're an Alzheimer's caregiver doesn't mean you don't feel the love either. You might be caring for a spouse and even though they have Alzheimer's you still love them the same. Below are a few films that will warm your heart if you're an Alzheimer's caregiver.
"Away From Her" (2007). In this movie, Julie Christie plays Fiona, a woman who has Alzheimer's and voluntarily enters a long-term care facility to avoid being a burden on her husband. After the facility's recommended 30-day separation, Grant visits Fiona and her memory of him has deteriorated. She also has developed a close friendship with another man in the facility. Grant must use his pure love and respect for his wife to choose what will ensure his wife's happiness.
"The Notebook" (2004).  In this movie Noah (James Garner) is the loving husband of Allie (Gena Rowlands) who has Alzheimer's disease and currently in a nursing home. In the movie Noah is attempting to help his wife rekindle the memories of their love by reading from his notebook.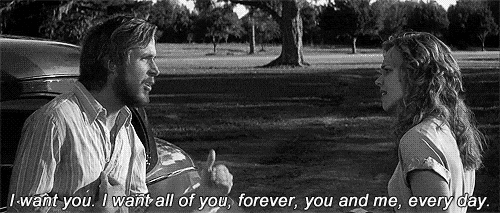 "A Song For Martin" (2001). This is a Swedish movie with couple, Martin and Barbara who meet and marry in middle-age. They soon discover that Martin has Alzheimer's disease. This movie is considered one of the most realistic depictions of caregiving on film.
As an Alzheimer's caregiver you give love all the time. Just because your loved-one has Alzheimer's does not mean you can't celebrate the upcoming Valentine's Day in your own way. As long as your spouse is still here, there's still an opportunity to remember the love you once had.  
Please reload